The team at Ed Dixon Food Design have curated a menu for this year's Spring Racing season.
Discover some perfectly constructed dishes for your Spring Racing Carnival gatherings; held track side or in the home. They've even included a favourite cocktail; to get you in the spirit this racing season. Be sure to check out their key suggestions for taking the party track side.
Menu
We love our Grill Grazing menu – it's a substantial, delicious offering served by our chefs, straight from the grill.
 Cold items
Classic poached chicken sandwich points, lemon mayo, crispy skin
Caramelised pumpkin & thyme parcel, zesty quark (v)
From the grill
Texan cheeseburger: beef patty, Jack cheddar, pickle, mustard & smoky BBQ sauce (gf available)
Salmon brochette, lemon glaze, salsa verde aioli (gf)
Spicy felafel pita pockets, preserved lemon salad, harissa spiked yoghurt, beetroot relish (v)
Pork & chilli plum meatball bahn mi, sweet chilli & lemongrass caramel, pickled cucumber, coriander & fried shallot
Sweet potato skewer, chipotle, burnt orange caramel (v) (gf)
Persian style lamb cutlet, sticky pomegranate & honey glaze, cucumber, mint & pickled chilli salad, labneh (gf)
Supper
Brie de meaux crostini, quince paste, crushed almond, pear chips
Classic beef party pie, house-made tomato relish
We'd also add one of our famous Sweet Boxes to finish the day with – these boxes offer a lovely selection to go with coffee or tea (or another glass of champagne!)
Sweet Box
Our famous double choc fudge brownie, candied orange (gf)
Rosewater coconut ice, pistachio dust (gf)
Little sticky fig & rosemary cakes, salted caramel
Giant strawberries

Cocktail/Beverage Choice 
Our favourite cocktail on the menu this year is one we've created especially for our guests:
Track side – Gin, a squeeze of fresh lime, soda and mint.
We always opt for good quality sparkling / champagne. Drinking cheap bubbles all day will not do the food justice, but will make for incredibly sore heads the next day!
Favourite dishes on the menu
Jamón ibérico, medjool date, smoked almond, blue cheese whip.
These little canapés don't look like much but they are honestly the most delicious salty, sweet mouthfuls!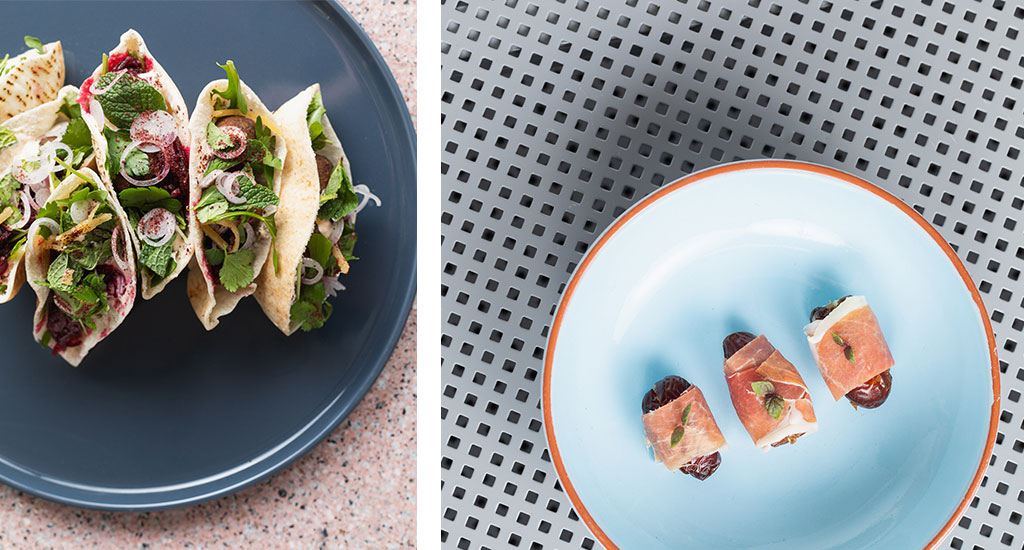 Some tips for track side catering
– Keep in mind that your guests will likely be dressed in their gorgeous designer dresses and suits, make sure the menu doesn't include anything that is likely to spill & stain – avoid heavy sauces, drippy dressings, rich desserts etc.
– Hydration – guests won't always ask for water, so it's important to circulate still or sparkling water regularly to ensure everyone gets the best out of their day!
– Remember to always have a weather contingency basket – sunscreen, umbrellas, ponchos, insect repellent – these can save the day!
– Race days are always a long event, be sure to allow for adequate seating space for your guests to relax and enjoy the atmosphere.
SOCIAL MEDIA LINKS
 Website: eddixonfooddesign.com
Instagram: @eddixonfooddesign
Facebook: /eddixonfooddesign
(Please know EDFD have closed catering orders for their Spring Racing season)
Image credits: