CLIENT BRIEF
The theme was 'Casa Corona' which directly translates to Crown House. It was a nod to the new luxury private villas and resorts on coastal locations in the Mediterranean and throughout South America, where they combine uncompromising quality with a laid back, bohemian feel. This annual event is considered a launch into the New Year. It's an exclusive ticket with an enviable guest list and as such the environment needs to feel luxurious but it's also a chance for everyone to let their hair down ahead of the Australian Open. We were lucky enough to be working in the new Aviary rooftop space at Crown, where it provided the perfect indoor/outdoor blank canvas to create the high-end villa inspired setting. Knowing full well that Crown would bring the service and hospitality, our purpose was to design a Summer appropriate, relaxed but premium event setting. This was achieved through the layering of textures and colour with the custom build assets. These included day beds and elaborate bars, an abundance of unique floral installations and of course a carefully curated selection of Dann Event Hire furnishings to complement the look.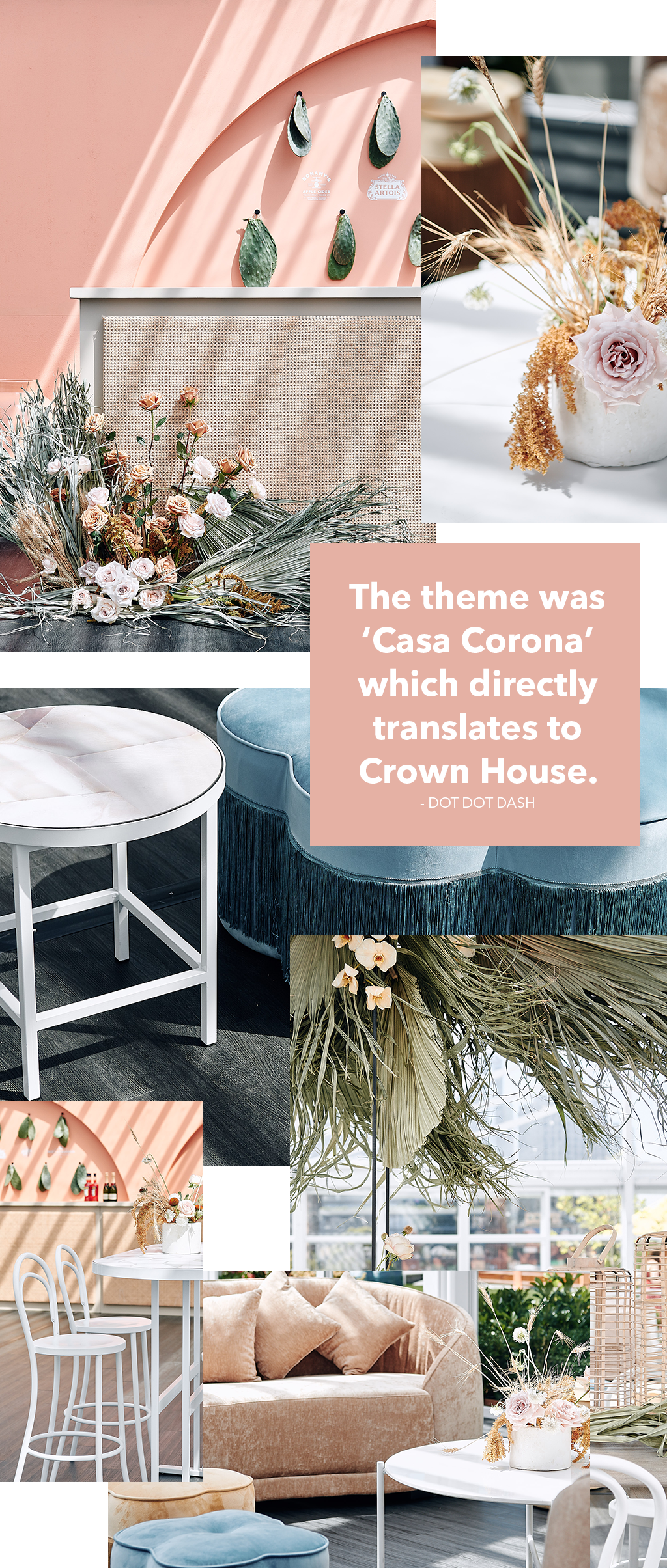 HOW MANY PRICKLY PEARS WENT INTO THE MAKING OF THAT AMAZING FEATURE WALL?!!
The prickly pears were certainly a hero of the night – they were large and around 30 units were used on the custom bar wall. The florals were out of this world.
HOW MANY TRUCKS WERE USED FOR THIS EVENT?
Yes, thank you. These were critical to the aesthetic of the activation. We had two trucks filled to the brim, from the very talented team and our long-time collaborators Cecilia Fox.
FEATURE COCKTAIL / FEATURE CANAPE?
Guests were spoilt for choice at Crown. The events team curated an incredible menu but we think a highlight was certainly the Nobu fresh sashimi and sushi station with live chefs. Oh and the oyster bar! It was all fantastic.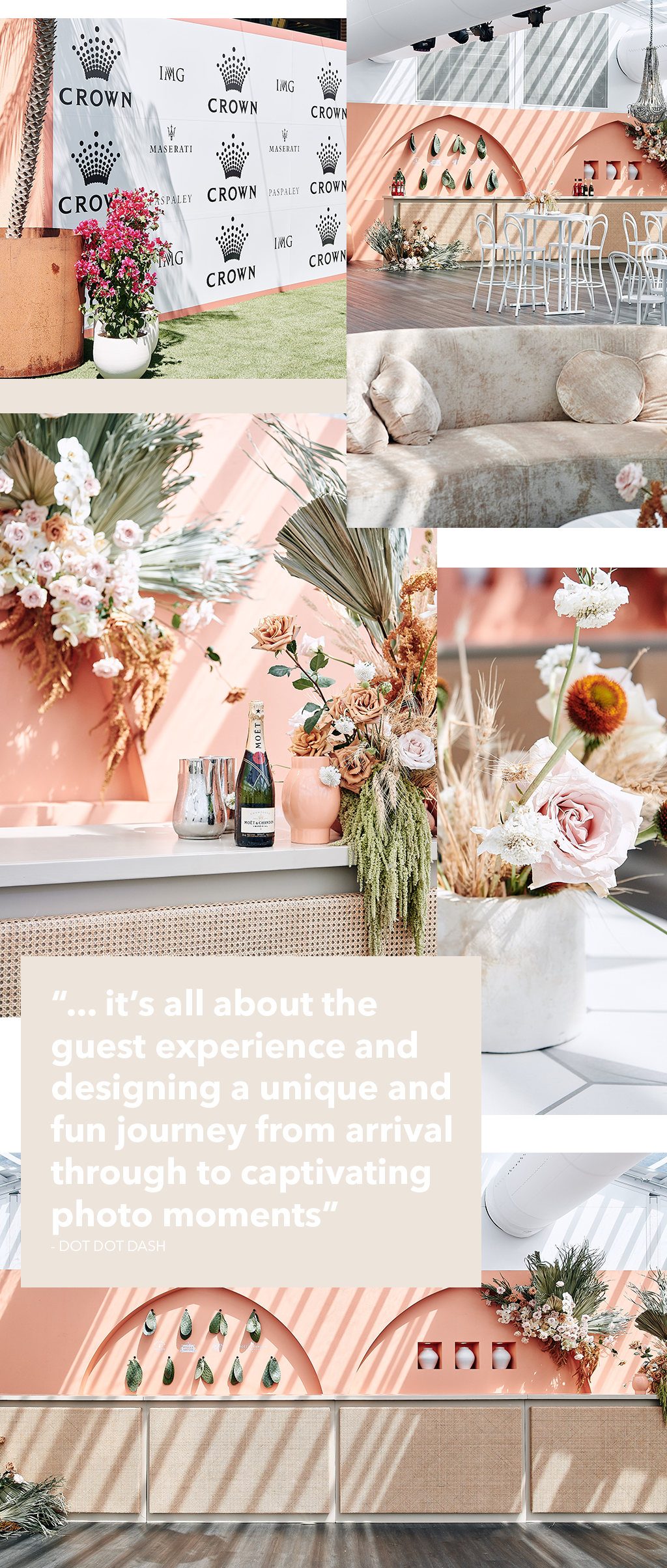 DDD TIPS ON BUILDING AND MAINTAINING THE ATMOSPHERE
It's all about the guest experience and designing a unique and fun journey from arrival through to captivating photo moments. Providing plenty of seating and sufficient room for dancing and mingling. Food service areas, although often thought of as "back of house" considerations, are critical to the vibe. By ensuring people aren't frustrated whilst waiting for food and beverages. The Crown team added the all-important service element, excellent food experiences and vibrant entertainment make for an event unforgettable event.
FAVOURITE ELEMENT OF THE SET UP
The 'photo moment' really brought together all of the design elements in one snap shot that captured the event styling. It's hard to choose as the colours, textures, furnishings and floral accents really worked so well together helping bring the event to life!
TIME FRAME FROM BRIEF TO EXECUTION
Relatively long lead with the first discussion being 6 months ago but it really amped up from Nov/Dec 2018 Hours for bump in 8 hours – a quick one for this much custom!
NUMBER OF GUESTS
400 PAX
EVENT COLLABORATORS
PHOTOGRAPHY BY: SIMON SHIFF
EVENT CREATIVE AND STYLING: DOT DOT DASH
LOCATION: CROWN AVIARY
FURNITURE: DANN EVENT HIRE
FLORIST: CECILIA FOX