Welcome to the first edition within our Winter Catering Series, where we collaborate with industry caterers to bring you styled photo shoots; capturing the essence of Winter food and produce along side our soon to be released hospitality wares. In this edition Bay Leaf Catering, have showcased a Persian feasting meal perfect for sharing amongst your nearest and dearest, with a special preview of our 'RUMI' and 'ATELIER' flatware ranges. In this special interview we profile Darren Collier, Head Chef at Bay Leaf Catering who provides insight into the wonderland of Winter cooking and how you can recreate this magic with Bay Leaf Catering's delicious cured trout recipe.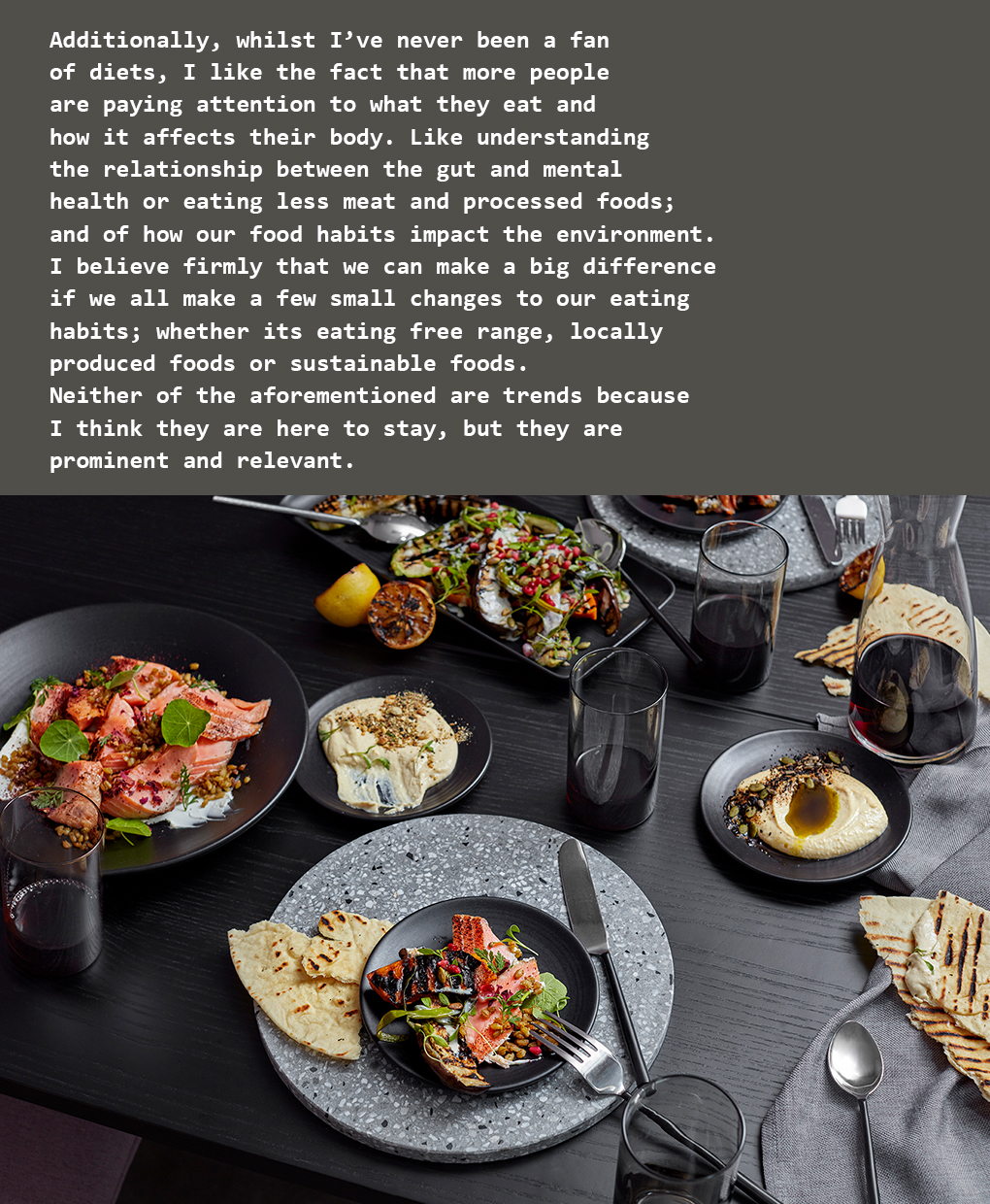 What is your creative process when designing menus and food and beverage service and how do you keep it fresh?
I always consider the customer when designing menus for Bay Leaf. Who is it for? What would they enjoy? What flavours and dishes resonate with them? We often have many parameters that guide what we can and can't use, so the most powerful tool I have is finding a connection with the customer.
We begin with core products, and build off from that, a chart of flavours that work together. Then think of how I can use different vehicles to carry those flavours around the plate, contrasting textures and temperatures
Who are you inspired by?
I love to follow chefs who challenge the status quo whilst being true to themselves. Those who are different but not in a contrived way; it's a pleasure to eat food from someone who knows exactly who they are. Chefs like Magnus Nilsson, Josh Niland, and Fergus Henderson. These chefs have, and still are, influencing and changing what we do and how we view food.
I also admire people who travel and share their experiences of other cultures. Food almost always plays a part in their story because of its huge cultural significance's; as an identity, as a history or as something that unites people. Travel writers like Bill Bryson and Michael Palin and chefs Keith Floyd and Anthony Bourdain in particular, have influenced how I think about food. They highlight for me that it's sometimes in the mundane, pedestrian or everyday, that we easily ignore or take for granted, where the greatest connections are made.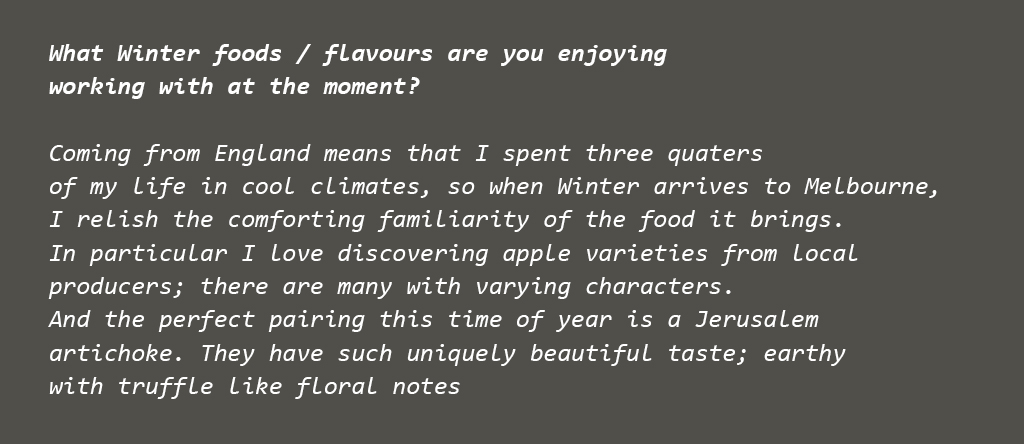 What would be your dream food brief?
I always love it when a client has a very strong message they want to convey with the food; when there is a purpose and meaning for their event. This means I can be creative with the menu and really try to connect it with the client's story. It's a challenge but means I normally learn something new.
If you hosted a party; who would you invite and what would be on your menu?
Family and friends. As many as I can muster and for as long as I can keep them near. Maybe a weekend in the countryside in a big house all together, feasting and drinking and playing garden games. I'm not interested in meeting anyone famous; they would just pull focus. What's my budget?
It would be great for us all to cook together; for everyone to help prepare some food that resonates with them; maximum enjoyment!!! From myself; a big hand raised pork pie, on a platter with some cured meats, pickles, cheese and bread; BOOM!
Share in this feast by recreating this spectacular Winter warming trout dish at home. See below for full recipe!

WEBSITE:
Bay Leaf Catering
INSTAGRAM:
@bayleafcateringmelb
FACEBOOK:
/bayleafcateringmelb
LINEN:
Simmons Linen Hire

IMAGE CREDITS:
Elisa Watson